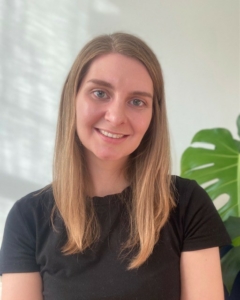 By Sarah Thorp, Network Engineer
Have you ever wondered how that show you're watching is delivering those subtitles to you? Well, being the person behind this process is where my Red Bee story began almost eight years ago. I now work as a network engineer within our Infrastructure and Automation Delivery team, with team members across Europe. Here's a quick overview of my Red Bee journey so far and some of the experiences you can expect if you decide to join us.
Subtitling to Project Management
It had initially been my intention to go into radio once I completed my music degree, however by the time of my graduation, I found myself working briefly in print media before making a natural migration into TV and broadcasting when the opportunity came up. Why subtitling? It can be a path for graduates looking to enter the broadcasting industry, because it gives you a glimpse into the inner workings of broadcasting. Working with live content really helps to hone a mindset of working diligently under pressure, something that's been hugely beneficial in my career development.
While in subtitling, there were a number of wider opportunities to get involved with, including lending my end-user expertise to software testing, which I became very involved with. After a few years, I started to think about what was next and when a test manager position in Access Services came up, I went for it, and I got it! As Access Services evolved (both within Red Bee and the wider world) so too did my role, which morphed into project management and then a product owner role. Eventually, I became responsible for the in-house live-subtitling software I had used since day one and helped to test over the years.

Making the Move into Network Engineering
Unlike many of my colleagues today, I didn't come from an engineering background. I had though seen the impact of network engineering on the outcomes of multiple projects over the years, a natural curiosity in this field, alongside my penchant for life-long learning outside of the workplace motivated me to explore the idea of a move into that discipline.
As is the way at Red Bee, my ambition in this direction was actively encouraged. After I demonstrated sincerity in my interest by obtaining some network engineering qualifications in my spare time, Red Bee agreed to let me try a secondment in the infrastructure services team, which I'm delighted to say became permanent this year.
What Does a Network Engineer Actually Do?
My role is the implementation of data communications paths, an often hidden but crucial network that underpins the entire IT infrastructure of any organisation. My work enables different technology devices (such as computers, phones and servers) to "talk" to each other – either within our organisation, or between ours and clients' organisations. Every time you send an email, a Teams message, or transfer a file, to name a few actions, that data is carried on a network implemented by someone in a role like mine.
Broadly speaking, the projects I work on fall into two categories, one would be helping to build brand new data communications paths for new business, and the other is working to recalibrate our solutions for existing clients who may have changed their way of working.
Join Red Bee
Apart from loving the technical nitty-gritty of my job, the variety and skills of the people I work with never ceases to amaze me. It's an ego-less, inclusive environment, where everyone ois equal and empowered to think creatively to find solutions.
I'm also living proof that Red Bee is a company that supports its people when they want to spread their wings. I have never been refused an opportunity to grow or try something new with Red Bee, which really makes this quite a special place to work.