Steve Russell, Chief Product Officer, Red Bee
This week I'm heading to Berlin for the DPP European Broadcaster Summit, which brings together broadcasters and vendors to share their insights and ideas about future collaboration in a changing world. I'll be there with my Red Bee colleagues, Dara Urquhart, COO and James Arnold, CCO.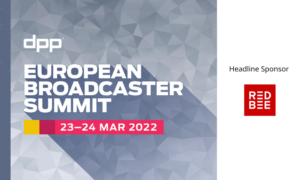 We're looking forward to meeting key industry decision makers in person after a two-year hiatus, during which time the TV industry has changed significantly. We're also hosting some round table sessions and workshops, including topics such as the role of shared broadcast infrastructure and the evolution of market relationships as central themes to defining where our industry is heading.
These workshops will provide a forum for discussion on how we, as partners to the industry, can be a primary enabler for our customers as they focus on their core business and position themselves for the industry's future.
Below are some of the key themes I expect we will be talking about:
A multi-dimensional strategy is key to success
Very few companies are just a broadcaster, production company, sports company, or content owner. Diversity of reach, monetisation, brand evolution and audience engagement are central to success. It's about agility and adaptability to ensure broadcasters and service providers reach their maximum potential audiences directly and via all those diverse channels, from linear and social, to FAST and syndication.
Avoid silos – both for content and operations
Business growth requires the ability to adapt, and the key is to be flexible, agile, and scalable across all routes to market. Tracking market trends and keeping a keen eye on audiences is paramount to diversifying the offering. It's essential to try new things and be able to quickly launch new services so you can economically test audience reactions and deliver one-off events. This needs considerable technical and operational experience, expertise, and flexibility. It's crucial to avoid content or platform 'silos' as success stems from an ability to traverse markets, platforms, channels and formats with agility.
The value of a multi-dimensional media service provider.
Partners that support and drive your business success are critical to stay ahead in this convergent market. Red Bee is uniquely positioned as a service provider that spans classic broadcast as well as world-beating OTT services. We believe this breadth of capability is key to the agility our customers demand. We offer flexible models that enable our customers to navigate those markets, platforms, channels, formats. Our customers can try things out and pay-as-they-grow because we've invested in creating these services. Our decades of experience mean we're a trusted partner to deliver broadcast quality services at scale.
At Red Bee, we are keenly aware of our role at the fulcrum of what we know as 'broadcast' and the underpinning services across technology, operations and innovation that distinguish 'broadcast' experiences. Our role is to deliver continuous service excellence on behalf of our customers whilst anticipating and preparing for what's coming next. We do this through our people, our investments, and our partnerships.
Do let me know if you're attending the event, or if you're in town and available to meet.