The workflows and technology used to create audio description has changed massively over the past 20 years, with programmes now completed in hours rather than days. Red Bee's Sally Nevrkla looks at some landmark moments and how the industry will evolve.
In order to take examine what has changed over the last two decades we can start in Spain in 1995. Mundovisión (which became a part of Red Bee in 2008) took on a special project for Canal Sur, creating an alternate movie soundtrack for viewers with sight loss. This soundtrack was played on the radio while the film, Outland, starring Sean Connery, was broadcast simultaneously on television. This project was called Cine Para Todos (Cinema for All) and was Red Bee's inaugural audio description project.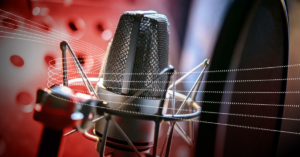 We then move to the UK in the year 2000 and the English-language Audio Description team was created at the BBC (later incorporated in BBC Broadcast and subsequently in Red Bee in 2005), with four pioneers tasked with the challenge of making content accessible for people with sight loss. A privileged group of 50 UK viewers, each with their own specially adapted receiver, would be the first to receive audio description for a narrow band of programming.
Fast-forward to the 2020s and the team – now based in four countries, across three continents – create over 6,000 hours of audio description each year. They have built up an archive of over 100,000 programmes for clients around the world and the audio description can be accessed by all viewers on linear TV and catch-up services at the touch of a button.
So how have we gone from such humble beginnings to delivering thousands of hours of audio description globally every year?
From then to now
When audio description was born, broadcasting was on the cusp of the move from physical media to the file-based world we now take for granted. Programmes would be received on VHS tapes, which meant a manual, real-time ingest was required before we could even think about starting the audio description process. The AD itself had to be recorded on physical DAT tapes and delivered by hand to our customers' playout suites, where it could be incorporated into the transmission process for onward distribution to viewers.
Contrast that with today, where a low-res version of the finished content and accompanying wav file is automatically created by broadcasters, transferred to our describers the moment it is available, and the finalised AD asset returned via the same path with a few mouse clicks. Add in the fact that all media is stored centrally – both on physical servers and in the cloud – and we have a resilient, secure, flexible and scalable way to share media with our describers anywhere in the world.
Another area where there have been massive improvements is how we schedule resources. Our brave band of four used a hand-written whiteboard to check what work was required, where the programme was in the production process and when it needed to be delivered.
"When audio description was born, broadcasting was on the cusp of the move from physical media to the file-based world we now take for granted"
State-of-the-art software
There have been real changes in the way we produce audio description since its inception at the start of the century. Back then, AD scripts were written in captioning software with a separate technical setup required to record the audio description. The end-to-end process could take several days to complete for one programme.
We now use state-of-the-art non-linear audio description software, which allows one person to manage the end-to-end AD process. They can write the script, record the AD track and even check the audio level of each description as it is created. This means we can compare the AD levels with the programme audio to ensure our AD isn't too loud, or too quiet, but just right for that particular section of the programme.
Similar to our media management and scheduling, our production has been centralised too, automatically saving and storing all work on a database which can be accessed by the whole team from any location in the world. An AD script written in the UK can be picked up in Australia or the US for adaptation or language checks before being recorded in the preferred accent and sent straight to the client in territory.
Programmes can be worked on simultaneously by multiple scripters and appended together by one person as they record. This has even allowed us to develop specialist fast-turnaround workflows, which means we can create an AD file for an evening transmission for a programme received earlier the same day.
20 years ago our whiteboard was mostly filled with episodes of EastEnders but now AD users have access to all genres, from costume drama, to comedy, to lifestyle, to sci-fi, to sport.
"We now use state-of-the-art non-linear audio description software, which allows one person to manage the end-to-end AD process."
We've also produced AD for many foreign-language programmes, interweaving our descriptions with the open captions, then voicing the whole lot, essentially telling the entire story for the audience – no mean feat!
And it's not just pre-recorded programmes that have been made accessible through AD. We've even been able to provide Live AD for the opening and closing ceremonies at the Paralympics.
So, a lot has changed in the past 20 years and it's difficult to predict what the industry will look like in another 20.
A technology led expansion
One thing we do know is that the volume of AD is set to increase. Changes to legislation are planned over the next few years in the UK, the US, Australia and Spain, to name but a few, which look set to increase AD requirements in terms of volume for linear broadcast and across digital platforms.
Add to that the fact that the streaming giants have already embraced audio description on much of their content, and the need for efficient, flexible and scalable solutions will continue to grow.
Technology will help feed this expansion. Cloud-based and remote workflows are already established, and have allowed us to continue seamlessly throughout the Covid-19 pandemic. AD created using AI synthetic voices is now a viable option for some content and, as the quality of these voices improve, this will play a bigger role.
One thing that definitely won't change is the bedrock of audio description – our audio describers themselves. This team of passionate and gifted professionals has grown from our original gang of four back in 2000 into a 24/7 global operation, but one thing has remained – their dedication to using their incredible grasp of language and passion for media to bring the best content to partially sighted and blind audiences around the world.
This content was originally created for IBC365 and published on 21st January 2021.