By Estibaliz Rodero, Sales Manager – OTT @ Red Bee Media
The pandemic has brought about many challenges for sports organizations, with the main one being how to connect to, and engage with, fans remotely, at a time when venues and arenas are closed to the public. The situation has been difficult, but it has also created an abundance of opportunity for content owners, broadcasters, and media companies to innovate and develop new ways of engaging with sports fans.

During the past year, we have had the pleasure to be involved in many discussions with our customers and other stakeholders in the media industry, on how to overcome the current barriers in sports broadcasting and pioneering new ways of creating engagement.

Here, we present and discuss some of the areas in sports broadcasting, where innovation is happening at the moment.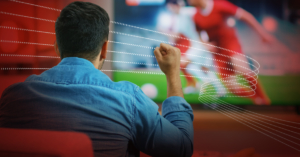 1. Personalization at all levels:
a. Production and multiple screens

Sport is best enjoyed live. Therefore, the production of live sport events needs to be on point and highly engaging. But as matches and competitions have come back to our screens after the first lockdowns in 2020, there is a noticeable change in the productions. The production teams are not just capturing the action happening on the fields and courts anymore but are also creating a more personalized experience for the fans.

We will most likely continue to see an evolution of how broadcasters use different feeds to cover different points of views throughout a live broadcast. Multiple feeds, and alternative camera angles, allow for enhanced storytelling with different the points of view. A perfect and well-known example is the celebration cam explored by the Premier League, a fixed point at the side of the goal, which doesn´t require a camera operator, intended to encourage players to communicate their celebration to fans watching at home.

b. Experimenting with new technology

There´s been a continuous debate on how the use of Augmented Reality and other technologies could help enhance and differentiate the viewing experience for live sports. CBS Sports, through their NFL collaboration with Nickelodeon, has provided us with a great example of how this could be done. By adding Nickelodeon styled AR effects to NFL games, CBS aimed to attract a wider audience than the traditional sports crowd.

Setting goals, identifying challenges and acting on opportunities

In this specific example, the goal was to engage younger audience (marketing firm Magna found that the average age of NFL viewers has now pushed above 50), as they recognize the challenge of younger generations to understand the rules of the game and engage with the live event.

A report from the consulting firm McKinsey notes that younger viewers still follow sports at a high rate, but they do so through the consumption of highlights and sports-related social media content, which presents a clear opportunity of using this type of content as a main driver.

There was some criticism to the final execution, and some skepticism about whether the project got the expected results. But, whether or not the project fully lived up to the original expectations, the ambition and innovative approach should be recognized and applauded. The sports and media industry could definitely benefit from thinking outside the box like this.

c. Personalize your streaming proposition:

Now more than ever, building OTT and streaming propositions is becoming a core strategy for connecting with fans. There are many potential options for creating personalized streaming sports experiences, including the following:

• Audience segmentation and content curation: Recognizing that all viewers aren't alike, prompts the need to differentiate your output. Super fans might want detailed game highlights with all there is to see, while the casual fans might just want an overview. Know your fans and curate your content accordingly.

• Segmented monetization: Content creators all across the internet are monetizing their assets through a long tail of small payments from fans, either by providing additional content to paying subscribers or asking them to assess the value of the content and pay what they think it's worth. This model is supported in Red Bee's OTT platform, allowing for a wider range of monetization options for sports content owners.

• Personalized audio: There are many new initiatives and innovations around the use of audio in sports media, including offering different audio feeds with commentary for live matches. One example is La Liga who has experimented with having influencers narrate some of their games.

Whatever the tactics, the objective should always be the same: provide great content and deliver amazing and personalized viewing experiences.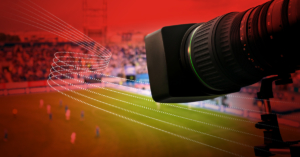 2. The role of 5G on the future of sports broadcasting

There's been a lot of discussion about how 5G will impact broadcasting in general and sports broadcasting in particular. This includes making remote production more practical and reducing the carbon footprint for broadcasters.

Beside increasing the efficiency of remote production and improving sustainability, 5G is also set to transform the fan experience and offer new ways of enjoying sports. With 5G technology bringing higher video quality and reduced latency, there are increased possibilities to deliver immersive and interactive user experiences, inside and outside stadiums and sports arenas.

There are high expectations on what 5G can deliver for sports broadcasting and media, and we're looking forward to being a part of this development.

3. The right content in the right place and creating interaction

When creating a cohesive multi-screens strategy for sports broadcasting, each piece of content has to be relevant for its audience and for the channel it is being exposed in. A good example of this, is broadcasters investing in creating short form content, with fast turnaround post-production, close to live events, which can published almost instantly to enable social media interaction around a live broadcast.

With small or non-existent audience at sports events as a result of the pandemic, it has become even more important to create interaction for virtual audiences. The NFL is for example using Microsoft Teams to let fans virtually attend games. With the help of "virtual mirrors" in the form of large scale LED screens, appear in each end zone during the games, players are allowed to celebrate with fans sitting at home. The same content will also be used in the television broadcast with fans appearing on-screen together with a player who scored.


Conclusions:

• The pandemic has created many challenges, but also an abundance of opportunity for sports content owners and broadcasters to develop their propositions

• Technology, as much as viewing behaviors, continue to change the game – whether it's 5G or AR, there's ever increasing opportunity for innovation

• Personalization and interactivity are becoming increasingly important for creating engaging viewing experiences in sports