During the 2016 Rio Paralympics, Red Bee Media provided live captioning, live sign language translation, and audio description, making Channel 4 the first ever in the world to deliver a completely accessible Paralympic Games. Red Bee Media was the exclusive provider of access services for Channel 4 Paralympics.
For Red Bee this meant to invest in new technology and training people to acquire new skills, with no room for error on a live event, Red Bee Media assembled a team that was up to the challenge and delivered an extraordinary groundbreaking performance.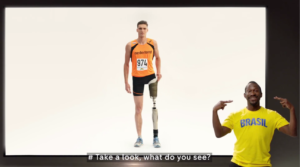 THE CHALLENGE
Completely accessible live Paralympic games
Make the Paralympic Games completely accessible.
Include live captioning, live signing and live audio description.
Use deaf translators for the job instead of hearing interpreters.
Because it was live, it was imperative that we were accurate the first time.
THE SOLUTION
New technology training & preparation
Pulling in new technology and talent from across the globe.
Training, preparation, research and rehearsals pre-games to ensure the best possible outcome.
Dedicated staff of expert signers, audio describers and deaf translators.
THE RESULT
The first even totally accessible Paralympics
C4 was the first in the world to deliver a totally accessible Paralympic Games.
933 hours 35 minutes live captioning across Channel 4, More4 and 10 online streams.
20 hours Audio Description and 20 hours British Sign Language on 4seven.