By Philipp Männer, Sales Director DACH, Red Bee Media
Any review of 2020 and look ahead into 2021 can't ignore the pandemic. The human tragedy is the foremost concern, yet the impact on the global economy is also profound – accelerating several major sports TV trends that will continue to play out for months to come.
One of the many effects has been the first-ever decline in spending on TV sponsorship and rights deals. According to data from Two Circles, a sports marketing agency, total global sports sponsorship rights fees will suffer a 37 per cent year-on-year decrease, dropping from US$46.1 billion in 2019 to US$28.9 billion in 2020. Meanwhile, the German Bundesliga and the UK's Rugby League are signalling a drop in domestic TV rights values following almost a decade of double-digit growth. Looking further afield, Tencent recently terminated and then re-negotiated its 2020/21 agreement to show EPL in China.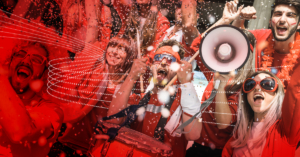 In 2021, we will see some flagship deals heading into negotiations, including the English Premier League and NFL. We are likely to see some significant compromises, and perhaps some shocks, as the status quo continues to shift.
Yet hidden within the hardship of 2020, there have been some notable bright spots for sports TV. Audience numbers have increased across formerly second-tier sports such as darts and rugby. Meanwhile, esports is likely to hit half-a-billion regular viewers by the end of the year.
The year ahead
Headline rights negotiations will dominate the 2021 agenda, and rightly so. The outcome will mark a precedent, showing buyers and sellers' mindsets and setting the tone for the direction of commercial models across the whole of sport. However, the most critical factor that is often overlooked is the fans. After the lost stadium season of 2020 and uncertainty about vaccine availability, fans are making bets with their wallets. Season ticket sales are down – potentially leading to a massive shortfall in sports club revenues that not even a greater share of TV deals can make up.
Fans are also starting to look beyond traditional sports broadcasters, as insurgents in the form of Apple, Amazon, DAZN (and potentially Netflix) encroach on the field of play. Amazon's deep war chest, along with an e-commerce sales boost during the lockdown, makes it potentially the biggest threat to the incumbents. Yet there are also some exciting start-ups such as SportsTribal, an AVOD based sports content aggregator soon to be launched – highlighting that subscription is not the only game in town. The fragmentation of consumer spending power will make aggregation popular with fans – and offer a path for leagues and clubs to bring their own offerings to market quickly and with lower CAPEX.
On the technology side, 2021 is the year that the cloud truly goes beyond the scope of handling basic playout or transcoding tasks. By every metric, major cloud projects are scaling up in areas such as remote production, accelerated by necessity during the pandemic. In 2021, the cloud will not only help address issues around social distancing – but also act as a way of allowing more experimentation in business models.
Disruption ahead
These trends could result in some scenarios that could really "put the cat amongst the pigeons," so to speak.
Looking at football, the massive impact of revenue loss during 2020 might force the hand of the national and international federations to consider launching their own B2C VoD services. Although an unthinkable idea a few years ago, the success of sports such as MLB and NBA in reaching national and international viewers is spectacular. For the 2018/19 season, audiences for NBA League Pass (an OTT streaming service) rose by 16 per cent globally – compared to an increase of just 5 per cent for the NFL.
The planning and infrastructure necessary to go from OTT business idea to working service could be completed within months. Crucially, in many cases, new services could attract grassroots support from sports fans. However, the commercial proposition is much harder to unpick, and although a tantalising idea, it is probably a step too far for FIFA or UEFA at this stage. It is, however, entirely likely for entrepreneurs at second-tier leagues and niche sports.
Sports aggregation services are another disruptor that is on the rise. A second-millennium version of ESPN's pioneering work, these services have the power of the internet to help them dynamically change accessibility and build new relationships with fans. Examples from other industries show what can be achieved. For instance, Crunchyroll is often described as "the Netflix of anime" and has grown from start-up to over 3 million paid subscribers with revenues likely in excess of $100 million by focusing exclusively on a single niche and prioritising fan engagement.
But perhaps the most significant disruptor – and the one least explored so far is around data. As clubs, teams and sporting brands start to build closer relationships with their fanbases, there is a growing realisation that few have successfully monetised these relationships as effectively as say Google or Facebook. For comparison, In 2018, the global value of sports media rights was just under $50 billion while Google alone had revenues of $136Bn. Sponsorship is well understood and mature, yet targeted advertising, marketing and data mining are still in their infancy. More aggressive use of data will play a greater part moving into 2022 and interest will likely focus on social engagement through shoulder content around sports programming backed by mature ad-insertion technologies.
Simply put…
Whatever happens, it's clear that the next few years are going to see a great deal of change. Leagues, broadcasters, internet giants and minnows are all vying for the hearts and minds of fans. Many of those players will want to avoid the investment risks and complexity of becoming fully-fledged broadcasters themselves, especially in an era when multi-platform capability is seen as table-stakes by consumers.
We're going to see plenty of innovation and some exciting new services. It may well be a bumpy ride. The winners will be those that can focus on their business goals rather than the technology.
This content was originally created for SVG Europe and published on 13th January 2021.