On April 6, 2019 it was once again time for the yearly NAB Show where the Broadcasting and Media Industry meet in Las Vegas to show what's new, ponder on the future and exchange ideas. For Red Bee Media it was the first time in a number of years exhibiting as an independent company and brand and we joined the show with the best that we have to offer!
NAB leaves a lasting impression. It is a huge show with 1500+ exhibitors fighting for the attention of roughly 100 000 visitors every year. This makes for an intense experience at a fast pace with one interesting meeting after another. Months of planning came to its conclusion when the show floor opened on Monday morning at 10 AM, and from then until the show closed on Thursday afternoon, we put our best foot forward and made every second count!
We came to Las Vegas to show how we are Shaping the Media Evolution together with our customer – by combining the best technologies with expert staff and optimal ways of working, enriching and ensuring media experiences for all audiences. An ambition that I definitely feel that we lived up too!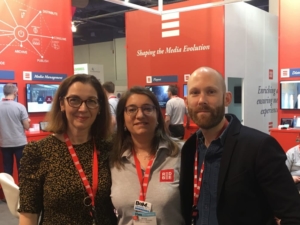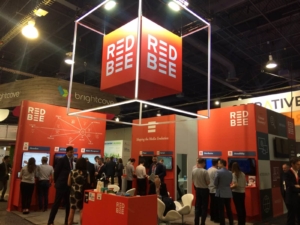 Red Bee Media at NAB 2019
During the show our product teams showcased some of our most innovative services including our global metadata offering with exclusive IMDb ratings and automated AI generated trailers, our IABM BaM awards shortlisted world's first software-only uncompressed playout deployment, our hybrid cloud-based Media Management platform Nucleus, record breaking low latency live OTT Services, ultra-efficient remote production and contribution network and real-time live automatic captioning with ASR. All of this and more captured the attention of over 500 customers, prospects, journalists and analysts.
We welcomed a number of journalists and analysts from well known media and analyst firms, including BroadcastNow, TVBEurope, Broadband TV News, Frost & Sullivan, Strategy Analytics and NscreenMedia – all with a keen interest in the future of Red Bee Media and what we had to show. In addition to this we had no less than 5 speaking opportunities where our experts shared knowledge in forums hosted by NAB TV, IABM and the SRT Alliance.
No tradeshow goes by without introducing news. Sometimes you even break a record or two. For us this meant first presenting our ultra-efficient remote production and contribution network together with V-Nova, which attracted a lot of well-deserved attention in trade media like Broadcast Beat, TV Technology and SVG Sports. When it comes to breaking records we managed to, in the middle of the show, achieve first 4 than ultimately 3.5 seconds latency on our live OTT streams. This of course also drew attention and resulted in great coverage for Red Bee Media in media such as CSI Magazine, Radio & Television Business Report, Rapid TV News, SVG Europe and Leaders in Sport.
To highlight another one of our biggest news during NAB, we invited customers, prospects and media to a dedicated demo session with drinks and networking. During the event we showcased real-time Live Automatic Captioning of The Australian Broadcasting Corporation's online 24-hour newsfeed. This demonstration was presented together with our partner Speechmatics, providing Automatic Speech Recognition Technology. The event was a success and our stand was filled to the brim!
By Thursday afternoon the 2019 NAB Show was coming to an end and as we were wrapping up, we could look back to a successful show that surpassed most of our expectations. Now, almost a month later, we are still experiencing the positive effects of our stay in Las Vegas – with new business relationships forming and continued interest in our brand and services. It was a good one, and we are already looking forward to the next!