Engaging All Original Content and Carbon Neutral Business Plan at the Core
Newyonder is a streaming service and film production company, aiming to make the world a more sustainable place, one film at a time. All content to date, is produced by Newyonder and distributed globally through pay-per-view rentals, delivered with Red Bee Pulse. As a certified B Corp®, Newyonder intends to measure its entire social and environmental impact, including the energy consumption and carbon footprint of creating and streaming its films. Its first two feature documentary films, Wild Isles and Three Moons of Biyangdo, are now streaming on newyonder.earth.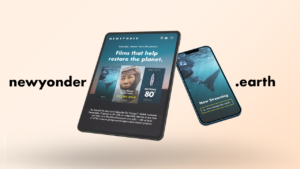 All content on Newyonder will initially be available through high-quality (4K and UHD on compatible devices) pay-per-view streaming, enabled by Red Bee Pulse. As the amount of content expands, the service will evolve into a subscription video-on-demand (SVOD) offering.
All films are albert-certified (BAFTA) carbon-neutral, sustainable productions with the ambition to have a positive social and environmental impact. This includes minimizing travel, compensating for any emissions, hiring local crew, and investing parts of the revenue in nature-based sustainability initiatives, such as seagrass creation and other regenerative impact projects. As Newyonder's community grows, so does its positive impact on the world.