TV5MONDEplus – the global French language streaming service, available in 194 countries, on major devices and platforms, with content subtitled in 5 languages.
Launching a video-on-demand service is challenging under any circumstances, especially with the explosion of competitive streaming offerings all vying for the same consumer eyeballs. Add a global pandemic, an accelerated timeframe, combined with a specific list of requirements, and "challenging" takes on a new meaning.
Red Bee Media faced these challenges head on to support the recent launch of TV5MONDEplus, a new global video-on-demand platform offering French language content to audiences all over the world through web, mobile devices and Smart TVs.
Extending the reach of French language programming to audiences across the globe is a central mission of TV5MONDE. The global TV network, which is supported by the governments of France, Canada, Switzerland, Wallonia-Brussels and Quebec, conceived a new streaming service to globally deliver high-quality and free French speaking content, including French language series, films, documentaries and children's content in full HD quality to 194 countries (193 at the time of the launch in 2020).
TV5MONDEplus, which went live in September 2020, promotes the programs of its partner channels, TV5MONDE's own productions, as well as co-productions and programs acquired globally.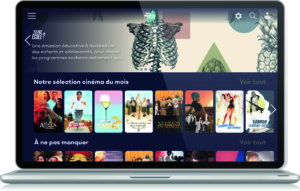 TV5MONDE stipulated several criteria in its launch plan: speed to market, a single-phase deployment, the widest availability possibility on multiple devices, asset rights management, security and, of course, high-quality video. Delivering all these features required an experienced managed services provider with an extensive and scalable OTT offering. For the front-end development, Red Bee brought on one of its partners Dotscreen.